I keep finding myself returning to Slovenia. The country just seems to have a hold on me. Since first visiting in 2013, I returned twice last year and I really wouldn't discount another visit in the coming year. To me it's kind of crazy how visiting Slovenia isn't a bigger deal for travellers to Europe considering all that it has going for it. I mean location, affordability, and ease of visiting, not to mention all of the wonderful sights the country has to offer.
Even the parts that I didn't particularly like the first time, I found myself coming around to with a chance to reexamine them and see them in a new light on my return trips. From the nation's breathtaking landscapes to its historical monuments, a visit to Slovenia is full of plenty memorable destinations. Visiting Slovenia has all the ease and perks of visiting any major European destination, while still offering a hint of an exotic, under-appreciated gem. Here are just 9 things worth knowing before visiting Slovenia, but also why you should visit in the first place.
1. A Green, Mountainous Country
Everyone loves those views of green hills and valleys you see from Switzerland right? Well I like to think of Slovenia as a sort of mini-Switzerland. Sorry, a much cheaper, mini-Switzerland. Now it might not be great starting off with a direct comparison to a nearby country but I think it's the best way to get a better picture of the country.
In Slovenia, you'll find a country bordered by immense Alps to the north and west. Among it's stunning mountain destinations are alpine lakes like the incredible Lake Bled and valleys like Jezersko. Elsewhere, there's the rolling, undulating green hills that spread across the countryside. In the more rural parts of Slovenia, you'll find small farmhouses and chalets that you would swear were actually in Switzerland. Oh and there are quite a few ski fields to be found like the one over the city of Celje, further encroaching on the Swiss. Basically, if you are a fan of the outdoors and pristine, verdant nature, Slovenia is the place to be.
2. Entry and Getting Around
Slovenia is a member state of the European Union and part of the Schengen Area that allows free movement between countries. Together this means that Slovenia is a very straightforward country to visit as it has the same requirements for entry as many of its neighbours, including Italy and Austria. This means no passport control between these borders and your stay in Slovenia counts towards your 90 days of your Schengen Visa, or Visa-free period for countries like Australia. As always, you should check your visa requirements before travelling and for more information, a good place to start is here.
As a relatively small country, it's possible to get from one side of the country to the other without too much hassle. the country has a train network centred on Ljubljana and connecting across to both Austria and Croatia, but sadly not Italy. The country is also connected by a decent bus network that reaches parts the train network doesn't. Last of all, Slovenia has some quality roads and driving may be your best move for getting about. Do note that you will need to purchase a vignette to be allowed to drive on Slovenian motorways.
3. Classic Castles and History
To be honest, I knew very little about the country's history before my first visit and each visit seems to serve as a reminder of that. It's only by repeat visits that I've come to learn the complex and often messy history of the region that now calls itself Slovenia. If you want to learn of Slovenia's history than the best way is to head straight for its many awesome castles. Each that I've been to has been both visually stunning, but has also offered plenty of history on the castle and the region.
Visiting the castles at Celje, Skofja Loka, Velenje and even Bled taught me about each of their individual complex medieval histories. The fantastic castle museum at Ptuj actually covered the history for much of the country's entire eastern part. Two that stood in particular for me were the World War II section at Skofja Loka Museum, detailing the fierce local resistance that actually liberated the country itself, a rare feat. The other is the extensive museum in the castle over the capital Ljubljana, which takes you through the country's entire history right up to independence in 1991 and the modern day. All are well worth the cost of admission.
4. It has a Small, but Scenic Coast
Squeezed between Italy's coast along the top of Adriatic Sea and the long, extensive coast that Croatia is so well know for, is a small slice of Slovenian coastline. Many people don't even realise that this small country even has a coast but they are definitely missing out. Now I'm not talking about soft sand beaches, but it is still super scenic and the water's clean and clear.
While there is the city of Koper and smaller towns like Izola and Portoroz on Slovenia's coast, I think the pick of the litter has to be the quiet and lovely town of Piran. Just a small old town, Piran sits on a peninsula jutting into the Adriatic, giving it plenty of waterfront and some really scenic views. Beyond its main square and several churches are plenty of small lanes that work their way up the hill towards the old town walls, where you'll find the best view of town. A sublime, lesser seen part of the Adriatic coast.
5. Money
Given all that it has to offer, you might expect Slovenia to be a far more costly destination that it is. Despite adopting the Euro and being an overall success story of the positive impact the European Union can have, Slovenia is surprisingly affordable to visit. It may not be as cheap as other parts of the Former Yugoslavia, but your money will definitely go further than in neighbouring Austria and Italy. It may just be one of the most affordable spots in Central Europe in fact.
The cost of intercity transport is pretty average for this part of Europe, with a trip of several hours costing between 10-15€. Accommodation prices are also middle of the road and you should be able to find a fairly standard room for around 35€. The one thing in particular I noticed was that food was cheap, with meals in one of the best restaurants in Ljubljana costing the equivalent of a far more humble restaurant in some of the neighbouring countries.
6. Mix of Influences
One of the more interesting things I find about Slovenia is the country's mix of influences. A lot of that ties into its history and geography of course. Because it was part of the Habsburg Empire for many centuries, you're bound to see some hints and reminders of Austria in parts. This of course comes through a fair bit in the architecture of the cities. Then there's the strong Italian influence in the west by the coast, where you would have a hard telling it apart from many coastal Italian towns. This is both because of the proximity to Italy, but also the fact that Italy gained control of a sizeable portion of Slovenia after World War I.
Lastly there's the slavic influence, which is the basis for the name of the Slovenian ethnic group. This is of course shared in part by neighbouring Croatia, but also throughout portions of the former Yugoslavia. If you visit several of these nations you'll probably realise that those influences are probably a little more subtle in Slovenia than some of its southern counterparts. Still, it's the blending of all these influences that makes Slovenia such an intriguing place to visit.
7. Language
The national language of Slovenia is quite simply Slovenian, a slavic language with similarities to languages like Croatian and Czech. If you know another Slavic language you might find some overlap which can be useful. If not, don't fret, as English is widely spoken in my experience and you should be able to get by with it. You'll also find that languages like German and Italian are spoken with some frequency closer to the borders of Austria and Italy respectively.
If you do want to learn a little Slovenian, which local people always find welcome, here are a few basic phrases to get you started. They include Zdravo which means 'Hello'; Hvala for 'Thank you'; Prosim for 'Please'; Oprostite for "Excuse Me" and Ja and No for 'Yes' and 'No'.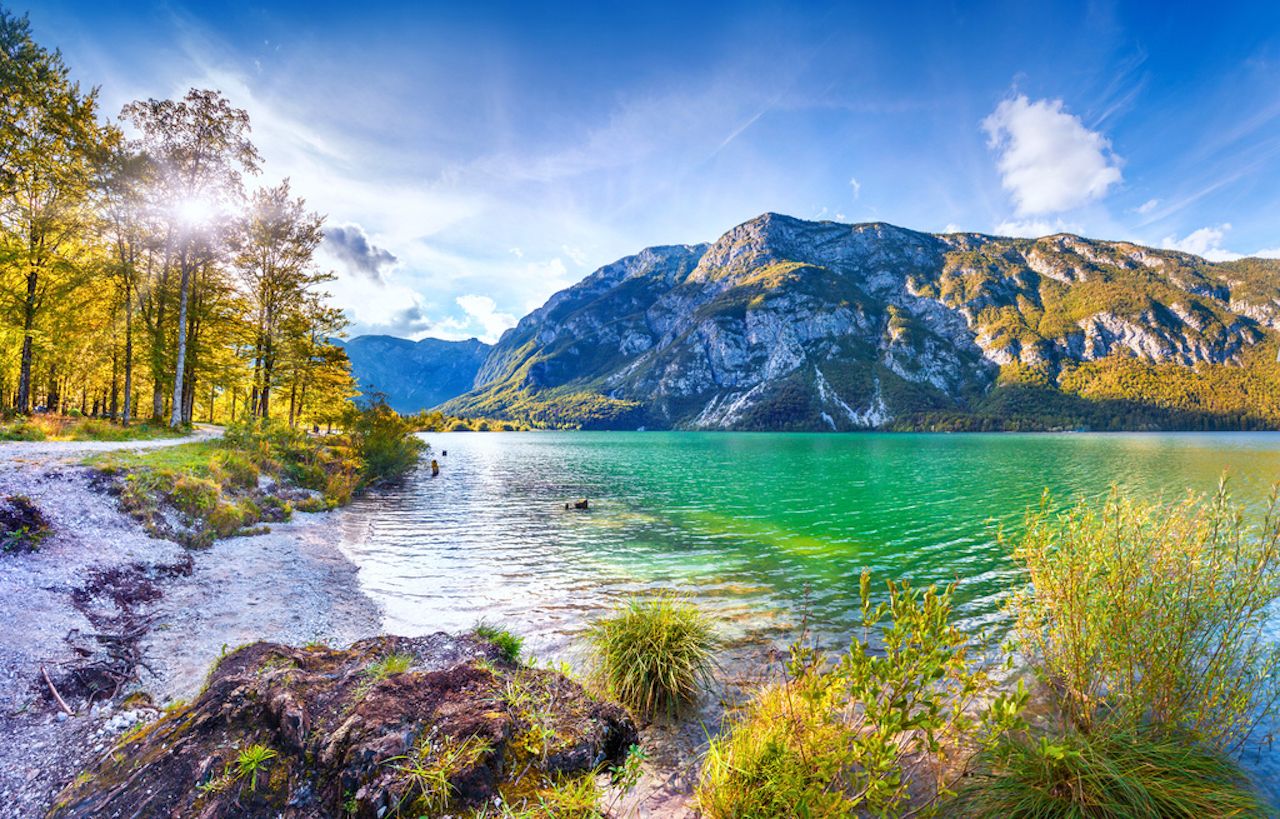 8. Food and Drink
I have to be honest, Slovenian cuisine is not enchanting on the level of say, Italian food. A large part has to do with the similarities it shares with Austrian, Croatian and a little with Italian food. Again it's that interplay of regional influences, but this time it leaves the country a little lacking in stand-out dishes of its own. Don't get me wrong, the food has been great when I've visited, from fresh seafood pasta to sausages and meat stews. It's just you can also have that food elsewhere. That sadly goes for the beer as well. Lasko the national beer is perfectly drinkable but it wouldn't rank near the top of many lists.
The one exception to all of this that I can think of is the beloved, devilish Kremsnita or Bled Cream Cake. A deliciously decadent vanilla slice with a generous helping of whipped cream, the Bled Cream Cake is a must if you spend any time at all in the picturesque lakeside town. While it can come in flavours like chocolate, if it's your first, then you have to go with the original.
9. Wondrous Caves
While they may not be my cup of tea (claustrophobic), I know there are plenty of people out there that are absolute fanatics when it comes to cool, spectacular caves. That being so, those people should make a beeline straight for Slovenia, as it boasts some truly remarkable cave networks. This is largely due to the significant limestone plateau that the Karst region of the country sits upon. Yes, Slovenia is in fact where the term "karst" comes from.
The two most popular cave sights in Slovenia are Postojna Caves and Skocjan Caves in the country's south-west. Postojna is known for the castle found at the entrance to the cave and the fact that you actually take a train down into the caves. Skocjan is perhaps a little less popular, but equally incredible with immense caverns and subterranean cliffs high above underground rivers. Despite my claustrophobia, I went down into Skocjan Caves and loved it! It looked like the mines straight out of Lord of the Rings.